Interview with Adriana Marchione: Using Art to Heal Grief
I went hunting for earbuds so I could snuggle up in a cafe and watch Adriana Marchione's documentary film, When the Fall Comes, about her process of using art to overcome some massive loss in her life.  I was sitting there drinking my latte while my belly was doing somersaults.  And I cried a cry of gratitude, of relief and feeling a new reverence for my own creative process.  I knew then and there I had to interview this artist, therapist and film maker.  Here is our interview.  I knew I had to shout from the rooftops that everyone I knew should see this short film.  
Traci Ruble: Hi Adriana.  I watched your acclaimed short documentary, When the Fall Comes, and I knew I had to interview you for Psyched in San Francisco Magazine.  Wow.  Everyone needs to watch this.  Can you say a little bit about your work and why art is important in healing?
Adriana Marchione: Thank you Traci for the support of my creative work and my film, When the Fall Comes. It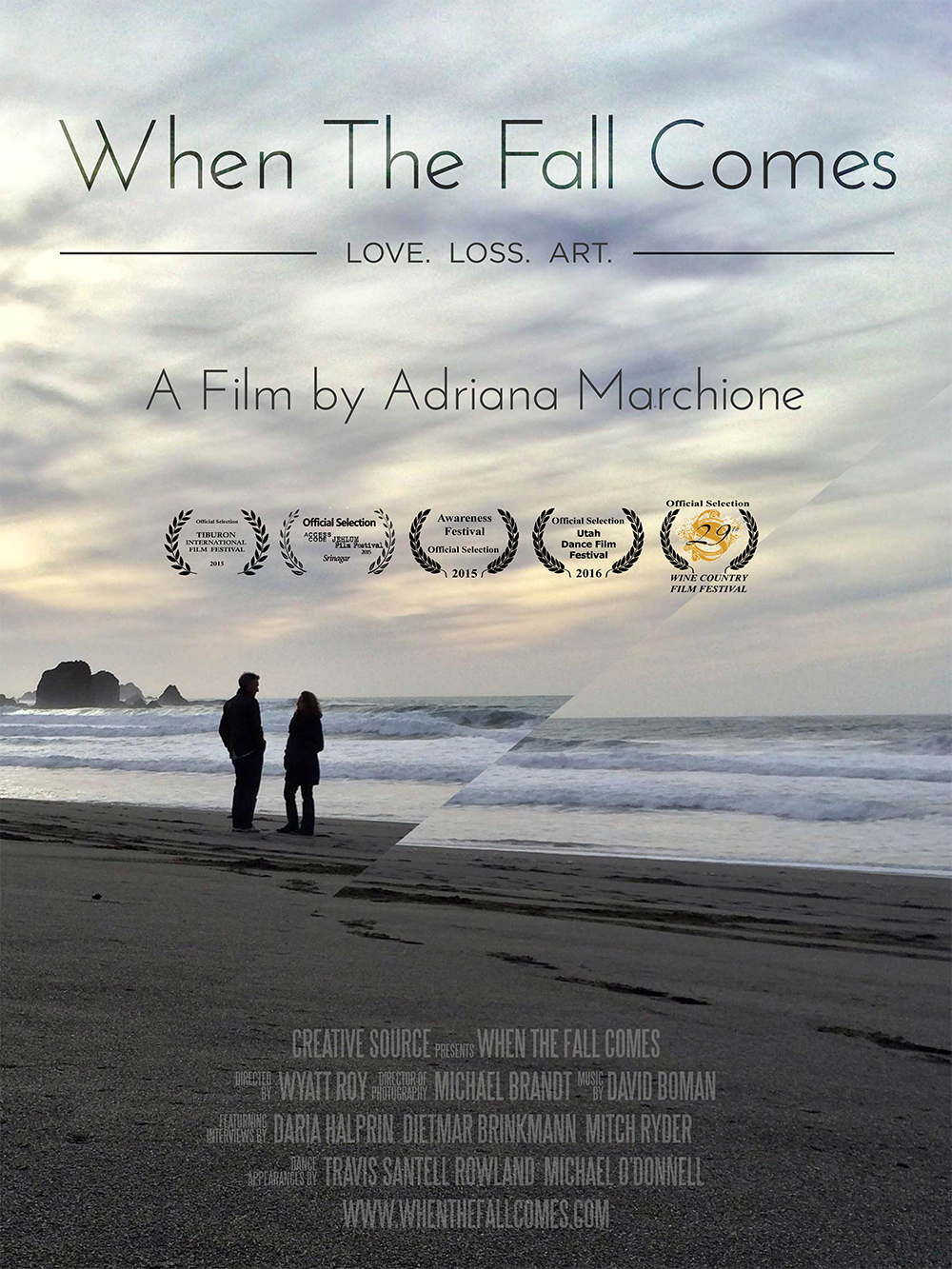 has been such an incredible journey to arrive at this point of sharing my personal grief story illustrating how I used the arts and a performance piece to heal from the loss of my husband. The decision to create the film was inspired by my work as an expressive arts therapist, teacher and trainer as well as my extensive background with the arts. I use a variety of art mediums from creative writing, visual arts, movement/dance to performance to help people tell their stories and build resources for a more healthy and expanded life. I have solid evidence from working with art as a therapy towards personal growth and social change; this shows me that art is fundamental to a functional society.
We need art to provide enrichment in our lives but more importantly, art provides ritual and can enable us to navigate the transitions and challenges we inevitably face. Something as simple as sending someone flowers to acknowledge a significant life event can symbolize a creative ritual. The work of expressive arts makes creative acts very intentional, allowing us to listen more deeply to ourselves. Through this listening we bring unconscious thoughts or emotions into the light through art 'artifacts' resulting in a drawing, a poem or a song, etc. The work of the arts as a healing force originates from tribal cultures where dance, adornment and ritual were ways of honoring the gods, and ancient traditions such as Greek theater where the goal of performance was to have a transformative experience. Art was created in service of community, where healing might affect the individual but more broadly could support the village to come together to ease suffering and celebrate life and death. An article I recently wrote about the necessity of art elaborates on this.
TR: Your film was raw and vulnerable and real.  How has it been for you to take a film with such personal content to the masses in the way that you have?
AM: It has been an empowering experience for me overall, but not without an extreme amount of vulnerability. Much of our entertainment in modern culture derives from people's real life stories revealed through books, visual art, film and theater.  We rely upon this truth telling, but sometimes may not recognize the risk it takes to go public. When I started revealing personal details from my experience of losing my husband I felt in visceral terms what a courageous act it is to get real – especially as a therapist/healer where my role often involves being a neutral person for the client. I had to allow myself to be more exposed. Consequently this vulnerability in being 'out' with my story has increased my ability to be useful to others.
In 2013 when I first shared my performance piece, also entitled When the Fall Comes, I felt such potency in the act of telling my story. But more significantly having witnesses to hold and share in my grief journey brought me to another level of gratitude and service. I realized how much people were affected by hearing my story, and how they were struck by the ways I used poetry and dance to navigate the disorientation and loneliness that loss brings. So, from there it was clear that I needed to create a film to keep the performance alive. I knew I could not continue to perform the piece because it was very raw and would bring the intensity of the loss very close again. In turn, the film provided me with another medium to capture the process and share it with a broader audience.
TR: Why do you think people don't often think to use art making as a part of their grief or emotional process?
AM: More than anything, I believe this stems from the lack of opportunity or the lack of awareness of what the arts can provide. Part of my mission at this time is to bring the work that I do with the healing arts to a broader audience. I have found that it is easy to stay insular and only preach to the converted. Many people who come to me are artists themselves or believe in the power of the creative process, so I find that education is very important to connect with people who do not have that creative orientation. My aim with my film, When the Fall Comes was to reach people who might not normally be drawn to the work that I do. The film attempts to spell out in very simple terms through interviews and visuals how I found expression and renewal after loss. We are used to 'talking' about things when we are in distress, which is useful, but verbal language has its limits. When we are experiencing grief, the emotions are overwhelming and words often cannot express the intensity we feel. The arts provide a much broader language to hold these emotions. We can use color, shape, movement, poetic verse and music to grasp the complexity of feeling – it is extremely effective and releasing.
TR: Can you paint the picture for us of what a modern culture who values art as part of health and growth would look like?  For example what would schools, work environments, etc be like with art as a more representative part of their process?
AM: Traci, this is such a big question! It hits right to the heart of the matter coming back to the idea I spoke of about art as a transformative tool in society. Art gives a release, and can offer the opportunity to bring repressed emotions, stories and memories out into the open. I have found that we can do this alone, but having help from people who are versed in the arts is much more safe and effective if the wounds are deep. Then we can delve into our imagination and find new narratives to shape our inner and outer worlds. Art rituals that can be done in community bring us out of isolation and hopefully to a sense of belonging. If everyone is allowed to have a creative voice, it can expand our ability to understand each other, to appreciate diversity, and to work together towards more creative solutions.
TR:What is next for you in your work?
AM: I'm so glad you asked! This month, When the Fall Comes is heading to two festivals, the Awareness Festival in Los Angeles on September 20th and the Wine Country Film Festival in Sonoma on September 18th. I am currently preparing for Night Sea Journey, my yearly grief and arts workshop, which will take place in January 2016 in San Francisco. My colleague, Steve Podry co- facilitates this workshop with me. It is a great opportunity for people to have a direct experience with the arts as a healing support for transition, loss and grief.  I am also very excited to announce that I am creating another film that will focus on a topic that has strongly informed my work over the years, which is the dance between creativity and addiction. It will be an investigation into the chaotic nature that is inherent in both the addictive process and the art-making process, and how this informs recovery.
Adriana Marchione consults, performs and teaches here in San Francisco.  You can learn more about her work on her website.   www.adrianamarchione.com