Mood Indigo, Mood Sunshine: The Many Moods of Everyday Life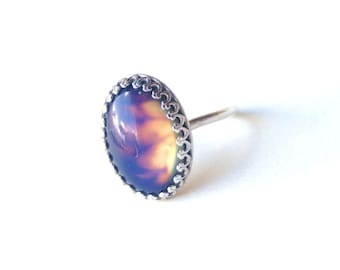 "…many Americans feel that being upbeat and positive everyday all day is a normal state of being. And that this leads to lasting happiness–a kind of shoving away of all things labelled "negative". I'd like to suggest, at the risk of sounding cliched, that a healthier way to think about moods is that they are like the weather. And changeable is not bad–it's good." – Elizabeth Sullivan

I'd like to write about something pervasive but underestimated in the therapy world–not depression or mental illness or betrayal but the difficulty of dealing with everyday moods. Duke Ellington had it right, the blues come on us sometimes for no reason. Or as the rest of us know–they come for an easily understood reason, a spat with a family member, something unlucky, like a parking ticket or the frustration losing something we care about. Of course good feelings can come on us this way too, and we want to welcome these and extend them. In fact, I see the best kind of happiness as happiness for no reason: just joy in being.

A client in a new relationship recently started talking about his bewilderment at his partner's moods. "It's not that I don't understand; I feel crabby and other stuff, stressed–it's just that I can barely deal with myself and now I've got this other person effecting me so much. The other morning I was in an ok mood–I was like, so relieved to feel good when I woke up. Calm, happy. But she came over and turns out she was kind of miserable, she had work stuff, family stuff. And I want to be there for her but I was like, aaarg. Now?"

I've come to think that many Americans feel that being upbeat and positive everyday all day is a normal state of being. And that this leads to lasting happiness–a kind of shoving away of all things labelled "negative". I'd like to suggest, at the risk of sounding cliched, that a healthier way to think about moods is that they are like the weather. And changeable is not bad–it's good. The very idea that we are always supposed to be happy and feel good contributes to a sense of inadequacy for many people. Most of us cannot keep it up moment by moment, day by day.  Why is it so hard to keep on the sunny side of the street? Because it is just not natural to do so. What is natural is to move through feelings lots of things, and not getting stuck in any one place; but to be able to help yourself return to the equilibrium of being present. And present usually feels pretty good; at least it's not deadness!

So it's not that it isn't a great goal, to want to feel good in yourself a lot of the time. But that is achieved not by pushing difficult feelings away, but by facing them and working through them. A typical day in the life of a regular person is filled with opportunities to feel many many feelings. The trick is to feel them–to integrate them–and to get back to the equilibrium of feeling pretty good in yourself.

"Great!" my clients often say at this point, "How do you face your feelings, though, really? What are you actually talking about?"

Facing our feelings is not hard. We can take a clue from meditation and simply pause and name them, "Ugh. I am so mad at my husband for forgetting to put gas in the car!" or "I am SO disappointed that my friend is cancelling lunch." "I am irritable right now." "I am sad." What we typically do next is the poison: "He/she must not care about me." or, "He/she is so selfish." "What's wrong with me? Other people have it together." 

The trick is to leave the feelings alone–not to turn them into anything like bitterness or not to retaliate. Simply being present with feelings is the recipe–and that is both extremely easy and extremely difficult. The way that a good friend or a therapist would talk you down out of your tree is the way we must all learn to talk to ourselves. "Hey, this sucks but it's going to be ok. We'll get through this." or "This is really upsetting and I've got to find a way to release this energy–I'm going to go for a run."

This is the point I say to clients, "You have to be present with your own feelings: you can't control what you feel. You can only control your response to it and how you behave. This is the bad news and the good news. All you need to transform your life is right inside you" or, as Rumi says, "You are the cure for your own sorrow."

This is called being a grown-up, and it sucks sometimes, but it beats the alternative. And a lot of times being a grown up is an incredible joy–a source of happiness for no reason at all. I wish this for all of us.